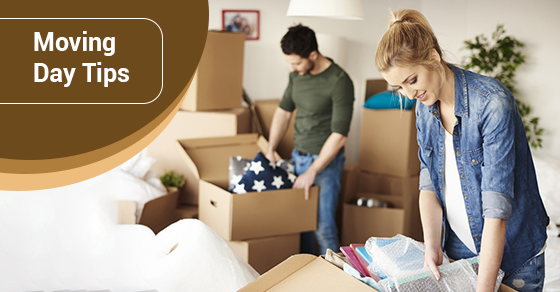 4 Moving Day Tips You Can't Live Without
Posted by Royal Storage | 18-06-2018
While exciting, moving day can be extremely stressful and can sometimes attract uninvited complications. Here are 4 moving day tips to ensure a hassle-free relocation to your new destination.
1. Organise and Plan Ahead:
Probably the most important step for a stress-free move is to organize your possessions, the movers and your helpers ahead of time. Do not forget to arrange helpers at the delivery location to guide the unloading process. When choosing times, avoid rush hour. If you have kids or pets, arrange for someone to look after them on the day of. This can considerably reduce stress and prevent unnecessary complications.
Equally important, consider storing your less important items/furniture at a trusted storage facility ahead of time if your new place is unable to accommodate all your belongings.
2. Pack Ahead and Label EVERYTHING:
One should never underestimate the power of labelling!
To avoid last minute confusion and losing or breaking valuable items, make sure all your packing is complete before moving day, and that everything is labelled by room or its contents.
This can help avoid damaging fragile items and facilitate easy unloading and unpacking. Once fully moved, enjoy the gift of labelling by unpacking the most important rooms or contents at your own pace.
3. Pack Move-in-day Essentials Separately:
Do not forget to account for how exhausting moving day can be. Make sure you pack a separate box or two, with everything you will need for the next 24 hours – and do not forget to label!
Here's what you should pack in your move-in day box:
A change of clothes and sleeping outfits
Bedding, pillows, and a blankets
Toiletries and other hygiene products
Phones, laptops, iPads, and their chargers
Cleaning supplies
Garbage bags
Snacks, drinks, and water bottles
Baby products and/or pet essentials, if required
A flashlight and a first aid kit
Basic tools including a hammer, screwdriver, box cutter, and a wench
4.Securing your Valuables:
Losing a valuable can add more stress to an already hectic moving day. When you find out a valuable/cherished item has been lost, it can lead to finger pointing and verbal altercations.
To avoid this, try to keep all your valuable items including passports, finances, medical, legal, and other equally important documents, plus jewelry and other keepsakes with you. You may choose to transport these yourself.
Follow these essential moving day tips and enjoy a good night's sleep in your new home. For more information on moving and storage advice, contact the experts at Royal Storage http://royalstorage.ca/
Leave A Comment