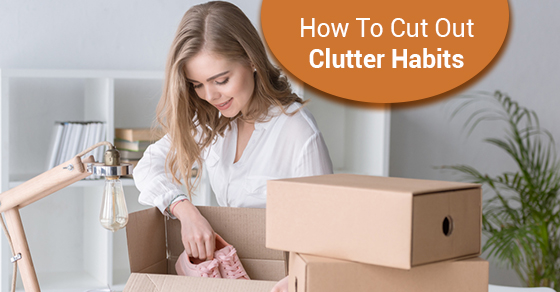 Have Too Much Stuff? How to Cut Out Clutter Habits
Posted by Royal Storage | 25-06-2018
If you chose to read this article because you feel suffocated and think you need help, congratulations! You've just completed the first step in de-cluttering your life – identifying and recognizing the habit.
Accumulating stuff does not necessarily reflect the habits of a hoarder, an important distinction to be kept in mind, but usually is evidence of an individual's lack of organization, delayed decisions, and sentimental attachments.
Once you've recognized the problem and are willing to cut the clutter, try to incorporate some simple, yet effective methods to achieve and maintain a chaos-free space and mind.
Take a breather and start slow – one room at a time. The first step is the hardest so do not go for perfection and overwhelm yourself. If boxes and items are stuffed away in a corner and haven't been used in a while, most likely they're not that important to keep. Instead think of donating, selling, gifting or recycling these items. Each of these actions come with their own reward so you can feel a sense of achievement and gratification.
Additionally, take the paperless route when it comes to paying your bills. Pay all your bills and receive your receipts online. This will not only help with cutting down the clutter, but you will also be helping the environment. Same goes for magazines and newspapers. Recycle those old magazines with the comfort that all of it can be read online and revisited as many times as you want.
If you still feel that your life is cluttered because you do not have enough space at home or are in transition, consider temporary storage. Revisit your storage unit to routinely re-evaluate and de-clutter. The experts at Royal Storage will be more than happy to advise and help you.
By following this routine, you can get rid of clutter and maintain your new habit of letting go. Just think, if it doesn't provide you immediate utility or enhance your present well-being, let it go. Almost always, there are better alternatives than sacrificing your precious space for items you never use.
As you learn to cut the clutter and no longer have to dig through a pile of stuff to look for your keys or that missing sock, you will begin to notice a positive change and improvement in overall organization.
For more storage options contact us today and start taking your space back from clutter!
Leave A Comment